HISTORY OF HOLY TRINITY SCHOOL
20222-2023 is the school's 175th birthday.
In March 2023 the school will celebrate it's 175th birthday and we are looking forward to celebrating this in March and going forward throughout the year.
Please find a brief history of the school below:
A Brief History of Holy Trinity School, East Finchley
In November 1846 a committee was elected to raise money for the erection of a National School in connection with the church of Holy Trinity. This was to be the first Industrial School in England. An acre of land was donated and sufficient funds obtained to cover the cost of the £1,066 for building the school and cottages for the Master and Mistress. The school opened in March 1848, on East End Road. In 1973 the building was listed as being of architectural and historical interest.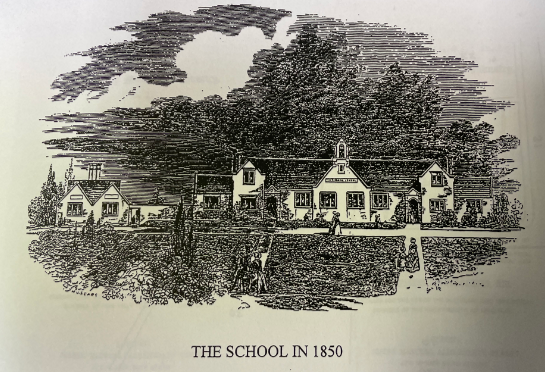 The school was to combine industrial with other education and fees were charged until 1903. All children were required to attend church every Sunday. The boys were employed in cultivating agricultural and garden crops for the use of the school. Girls were employed in needlework, washing and cooking. But ...."care will be taken that the industrial education shall not retard the acquisition of reading, writing and ordinary branches of a National School education....." " The great object of a National School is to teach and to train children so that they shall live in accordance with the Commandments of God...."
By 1870 the school was called Holy Trinity National School and the emphasis shifted from industrial to standard 3R's teaching. Boys and girls up to age 7 were educated together, but there were separate schools for boys and girls aged 7 to 14 until 1901. In 1931 all children over 11 were transferred to other schools and in 1933 the Infant and Junior schools were amalgamated under one head teacher. By this time the word 'National' had disappeared from the name of the school.
Planning for the new school on the current Eagans Close site began in 1972 and it was opened in 1975 by the Rt. Hon. Mrs Margaret Thatcher MP.
In 1998 the school celebrated it's 150th birthday and there were lots of events to celebrate this, as well as a booklet being printed and a photo taken of the whole school. This culminated in the whole school dressing up in victorian clothing and taking part in activities that the children would have done when the school first opened.
In 2004 the school was extended to give 2 extra rooms, which were originally used as a library and ICT suite. These are now used as classrooms. The library extension was officially opened by The Right Reverend and Right Honourable Dr. Richard Chartres, the Bishop of London, on Thursday 21 October 2004.